#AllAboutZee is the thirty-eighth episode of season 1 of DC Super Hero Girls.
Plot
Zee meets a shy girl named Casey Krinsky, who is immediately befriended by her. At lunch time, Zee introduces her friends to Casey, who brought the tots for them to eat and they all became friends. However, on the following days, Zee is getting creeped out by Casey who is obsessed with her and used her belongings to get her on schedule to meet with her. As she went to the restroom, Zee has had enough with Casey following her every day, which hurts Casey's feelings.
Zee feels guilty of what she has done and she apologized to her, but suddenly, Casey reveals herself as a supervillain made of crystals and, not only did she steal her looks and her superpowers, but she switched bodies with Zee's magic. Casey in Zee's body tells the girls that she is Zee and that "Casey" is talking crazy, which they immediately ditched Zee in Casey's body.
Later, at Sweet Justice, Babs opened the door to the secret base, in which Casey finds out that the girls are the Super Hero Girls and steals their looks and superpowers, turning her into a giant fusion of the Superhero Girls. With the girls unable to stop her without their superpowers, Casey spots Zee and chases after her to the amusement park. But then, Zee enters the hall of mirrors and outsmarts Casey as she breaks the mirrors, forcing her to use her magic to give all of the superpowers back to the girls and switched her body back. Casey was mad at her as she runs off to tell everyone the girls' secret identities, but fortunately, nobody believed her.
Cast
Trivia
In Mainstream DC Comics, Casey Krinsky is a somewhat obscure character first appearing in Firestorm vol 3 #4 as an adversary of the second Firestorm, Jason Rusch. To which she developed a psychotic infatuation for.
In this episode, Casey knows the secret identities of the Super Hero Girls.
This episode reunites Lara Jill Miller, Grey Griffin and Tara Strong, who voiced Widget, Wubbzy, and Daizy respectively from the Nick Jr. series Wow! Wow! Wubbzy! In additon, the three have voiced various characters in other Nickelodeon properties, such as The Loud House and The Fairly OddParents.
Error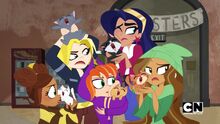 Gallery
---
DC Super Hero Girls episodes
Episodes 1-4
#SweetJustice
Episode 5
#AdventuresInBunnysitting
Episode 6
#HateTriangle
Episode 7
#BurritoBucket
Episode 8
#MeetTheCheetah
Episode 9
#Beeline
Episode 10
#SuperWho?
Episode 11
#ShockItToMe
Episode 12
#SheMightBeGiant
Episode 13
#FightAtTheMuseum
Episode 14
#FromBatToWorse
Episode 15
#CrushingIt
Episode 16
#MisgivingTree
Episode 17
#IllusionsofGrandeur
Episode 18
#BeastsInShow
Episode 19
#GothamCon
Episodes 20-21
#DCSuperHeroBoys
Episodes 22-23
#Frenemies
Episodes 24-25
#SoulSisters
Episode 26
#Abracadabrapalooza




Episode 27
#RageCat
Episode 28
#TheGoodTheBadAndTheBizarre
Episode 29
#BackInAFlash
Episode 30
#PowerSurge




Episode 31
#ScrambledEggs
Episode 32
#DramaQueen
Episodes 33-34
#AllyCat
Episode 35
#Retreat
Episode 36
#DinnerforFive
Episode 37
#LivingtheNightmare
Episode 38
#AllAboutZee
Episode 39
#TweenTitans
Episode 40
#EmperorPenguin
Episode 41
#BreakingNews
Episode 42
#CrashCourse
Episode 43
#House Pest
[[File:|157px]]
[[File:|157px]]
[[File:|157px]]
[[File:|157px]]
Episode 44


TBA

Episode 45
TBA
Episode 46
TBA
Episode 47
TBA
Community content is available under
CC-BY-SA
unless otherwise noted.