#BeastsInShow
is the eighteenth episode of Season 1 of
DC Super Hero Girls
.
Plot
The episode begins with Ace tackling Kara after she picks up a tennis ball. Babs introduces him to Kara and says he's the greatest dog in the universe. Kara disagrees and says her old dog back in Smallville is the greatest dog in the universe. She whistles, and Krypto crashes through a brick wall and jumps to her. Babs and Kara argue whose dog is better, and say there's only one way to settle the issue.
The scene cuts to black and fades into the Schuster Arena where an announcer is announcing the "44th annual Metropolis Kennel Club dog show". The show starts with an obedience trial, in which Ace impresses the announcer while Krypto fails to meet "MKC standards". The dogs continue to take various tests, until the dog show is disrupted by two hyenas that ran away from Harley Quinn. Ace and Krypto fight off the hyenas together, and Krypto throws them out of the dog show.
The announcer announces that the winner is "Waffles the Pomeranian", and Kara and Babs complain that even each other's dog is better than that. They smile at each other and the shot cuts to Pelham Park where Kara and Babs agree both dogs are good boys, and the episode ends with Kara and Babs shouting "bad boys" at the dogs while they chase after a cat.
Cast
Trivia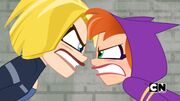 The climax is similar to the Krypto the Superdog episode "The Bat Hound Strikes!," in which Krypto and Ace the Bat-Hound join forces to stop the hyenas Bud and Lou who wreak havoc at the dog show.
The title of this episode is a pun on the phrase, "best in show."
Harley named her hyenas "Ethel and "Lucy" rather than their original names Lou and Bud.

Lucy and Ethel, which is the name of the main characters from the 50s sitcom I Love Lucy.

Barbara fighting Kara is similar to their original counterparts in the original webseries episode "Batgirl vs. Supergirl."
Barbara and Kara do not transform into heroes at any point in this episode, making this episode the first time none of the main characters transform into heroes.
Gallery
Video
---
DC Super Hero Girls episodes
Episode 1-4
#SweetJustice
Episode 5
#AdventuresInBunnysitting
Episode 6
#HateTriangle
Episode 7
#BurritoBucket
Episode 8
#MeetTheCheetah
Episode 9
#Beeline
Episode 10
#SuperWho?
Episode 11
#ShockItToMe
Episode 12
#SheMightBeGiant
Episode 13
#FightAtTheMuseum
Episode 14
#FromBatToWorse
Episode 15
#CrushingIt
Episode 16
#MisgivingTree
Episode 17
#IllusionsofGrandeur
Episode 18
#BeastsInShow
Episode 19
#GothamCon
Episode 20-21
#DCSuperHeroBoys
Episode 22-23
#Frenemies
Episode 24-25
#SoulSisters
Episode 26
#Abracadabrapalooza




Episode 27
#RageCat
Episode 28
#TheGoodTheBadAndTheBizarre
Episode 29
#BackInAFlash
Episode 30
PowerSurge




157px
157px
Episode 31
#ScrambledEggs
Episode 32
#DramaQueen
Episode 33
TBA
Episode 34
TBA
Community content is available under
CC-BY-SA
unless otherwise noted.