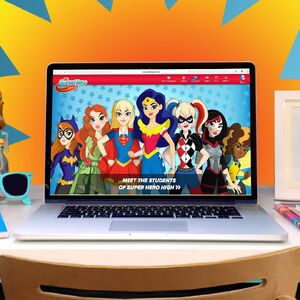 DC Super Hero Girls is the official website for the franchise that features games, pictures, and videos of the franchise.
Pages
Main page
The main page of the site features a slider linking to various areas of the website, the latest videos, links to games, merchandise, and character description pages. It also currently has a link to purchasing the DC Super Hero Girls app on iTunes.
Meet the Heroes
This page gives you links to the different profiles of the heroes. There are seven different links that go to the profiles of the main characters: Supergirl, Wonder Woman, Batgirl, Bumblebee, Poison Ivy, Harley Quinn, and Katana. There is also one page that briefly describes Cheetah, Catwoman, Hawkgirl, Star Sapphire, Hal Jordan, and Beast Boy.
Watch Videos
The videos page involves a list of different videos to watch, specifically webisodes going by season, with the newest video featured at the top.
See Products
This page shows the various merchandise available for sale.
Play Games
Four games have been released onto the website thus far. Which DC Super Hero Girl is Most Like You? was released on November 4th, 2015, Flight School was released on November 9th, 2015, How Big of a DC Super Hero Girls Fan Are You? was released on January 11th, 2016, What is Your Super Power? was released in April 2016, and Super Hero Match-up was released in Spring 2016.
View Wishlist
This page lists products added to the wishlist from the See Products page.
Removed pages
Pics
This page showed various images posted onto Instagram and Facebook. It was removed by March 4th, 2016.
About
A page explaining the details of the franchise. It was removed by March 4th, 2016.
Community content is available under
CC-BY-SA
unless otherwise noted.