Frenemies
Gallery
Transcript
---
"
It is our divine duty as hosts to offer hospitality to this new guest. Plus, she is very important to Barbara for some reason. Therefore we must make an effort.
"
#Frenemies is the twenty-second and twenty-third episode of Season 1 of DC Super Hero Girls.
Plot
While the girls are battling an alien creature named Starro the Conqueror, Batgirl learns that Harleen Quinzel is moving to Metropolis from Gotham City. The other five find Harleen's pranks and behavior to be insufferably annoying, but struggle to put up with her for their friend's sake. Barbara finally learns their opinions by using Diana's Lasso of Truth on them and storms away, ready to give up on their friendship.
Meanwhile, Harleen befriends Selina Kyle, Pamela Isley, Carol Ferris, Doris Zeul, and Leslie Willis and the six prepare for a spree of vandalism. Barbara is disappointed that Harleen wants to hang out with them instead of her; after she leaves, the six assume their villain identities (with Selina becoming Catwoman) and begin committing crimes all over Metropolis. The other five girls rush to stop them, but Harley Quinn's antics distract them so the villains can gain the upper hand.
While at Sweet Justice, Babs talks to Barry about her situation, and Barry helps her to realize that she and Harleen can still be best friends while having separate circles of friends outside of each other. Babs calls Harley to explain the situation, distracting her long enough for her to suit up as Batgirl and join the fight. The villains flee the scene as the police arrive, and the six heroes apologize to one another and promise to stick together against these threats. Later, Barbara and Harleen notice each other's fresh injuries (sustained in the fight), but quickly dismiss their suspicions in favor of hanging out at a comic shop.
Song
Characters
Cast
Quotes
Babs: Yay! Leeny-Beanie!
Harleen: Babsy-Wabsy! *Babs climbs over the table and everyone's lunch to get to Harleen*
---
Karen: Uh... do you like this series?
Harleen: Love it! That's why I read all the spoilers. *proceeds to tell Karen all the spoilers*
Trivia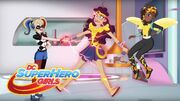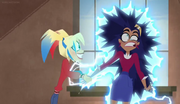 Although Garth appears in this episode, he did not have any lines.
This episode shows how the villain girls form a team together.

This is also the story of how Harley Quinn moves to Metropolis.

This episode features Bumblebee's transformation sequence from "Buzzkill" and "Beeline". Additionally, transformation sequences for the other Super Hero Girls and the villains debut in this episode.
This episode aired one year after the episode, "Anti-Hall Monitor Part 2".
Batgirl calls her and her friends "SBFFs", which was stands for "Super Best Friends Forever". This is, in fact, the title of a DC Nation short, both were developed by Lauren Faust.
References
When Harleen shocks Diana with the joy buzzer, it is similar to their original counterparts in the original webseries' second episode.
When Harley Quinn opens her hammer rocket can explosion, it is similar to Bullet Bill from the Super Mario franchise.
Continuity
This is the second half-hour special of the series since the previous episode.
Diana's face turns red with rage, making it the first time we see this in the series.
Video
v

•

e

Generation 2 animated media