Stub
This article is a stub. You can help DC Super Hero Girls Wikia by expanding it.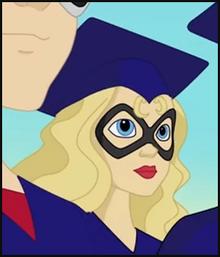 Liberty Belle is a character in the first generation of the DC Super Hero Girls franchise. She is the History of Heroing teacher at Super Hero High School and only appears in graphic novels.
Cartoon
Season two
She is mentioned as writing the book "Unabridged History of Heroes", which is one of many books given to Supergirl by Granny Goodness in the Super Hero High School library to help her "get up to speed on Super Heroing". Supergirl later returns the books to Granny Goodness in the library when she plans to transfer to Korugar Academy.[1]
Superpowers
Enhanced Speed
Speed Combat
Enhanced Strength
Strength Combat
Vibration Manipulation
Seismokinetic Combat
Enhanced Combat
Graphic Novels
Finals Crisis
In Finals Crisis, the Flash asks Starfire "Who wrote The History of Heroes" from a flashcard while studying for Semester Finals. Starfire correctly answers "Liberty Belle", commenting that it was an easy question.
Hits and Myths
In Hits and Myths, Liberty Belle's name appears crossed out on a list of upcoming faculty birthdays in June Moone's flashback.
Books
She appears in the video announcing Bumblebee as the Hero of the Month, expressing her desire to have "a whole hive of bumblebees here".[2]
TBA[3]
References