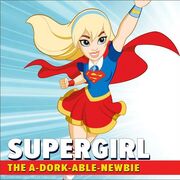 Hi guys my name is MrQuest17. I'm the founder of this wiki and also a huge DC fan, I love learning about all the different heroes and villains, and am really looking forward to DC superhero girls, as well as chatting with you guys about it.
Why do you like DCSHG's?/ favorite character
I love DC superhero girls, because it's finally a doll brand that we guys can get behind. Like I absolutely love the franchises predecessors; MH and EAH, but I've felt like I haven't really been a big fan of the focus of those and have felt left out in that respect. That's why I'm glad DCSHG's has more things for us. My favorite DCSHG's character would have to be Jinx, because I just love the kind of style she's got going on. Plus I also think she'll be a good match up for Harley Quinn, due to both of them being portrayed as probable jokers.
what DC super hero/villain are you like?
If there was any superhero I could probably relate to it's Cyborg, because just like me he's a big fan of tech and is in constant need of it everyday, but is not a total geek either, in the respect that I just love to hang out with my friends.
Favorite pages